You know the ins and outs of real estate marketing for Facebook. You tweet regularly to your many followers on Twitter. You even post on visual social networks like Pinterest and YouTube. But do you take advantage of all that LinkedIn has to offer?
The unofficial social network for professionals is actually an excellent real estate lead generation tool. Not convinced? Well, just look at the stats: Data compiled from more than 5,000 companies found LinkedIn produced 277 percent more leads than Facebook and Twitter. That's not to say you shouldn't use those platforms to generate real estate leads, but it does mean you need an active presence on LinkedIn.
There is more to LinkedIn than simply signing up for an account, though. Real estate lead generation on this platform requires effort. Luckily, we have eight expert real estate lead generation ideas for LinkedIn that can grow your contacts database.
1. Upload a Professional Headshot
If you're trying to get leads and referrals through LinkedIn, first focus on your profile. Your headshot is likely the first thing your leads see on your profile page, in search results or when you invite them to connect, so a great headshot is crucial.
Use a headshot that shows leads that you're confident, competent and likable enough to connect with and eventually hire. The image should also be high-resolution and professional — not a grainy image, a photo obviously taken at a bar or a picture that doesn't reflect who you are as a real estate agent.After you upload your headshot to LinkedIn, make sure to preview your profile to make sure it's cropped properly.
One of the best ways to make sure your headshot is LinkedIn worthy is to use Photofeeler. Photofeeler puts your headshot in front of thousands of people who anonymously rank it for competence, likability , and influence. You can upload a few different versions of your headshot and use the one that users rank the best on LinkedIn.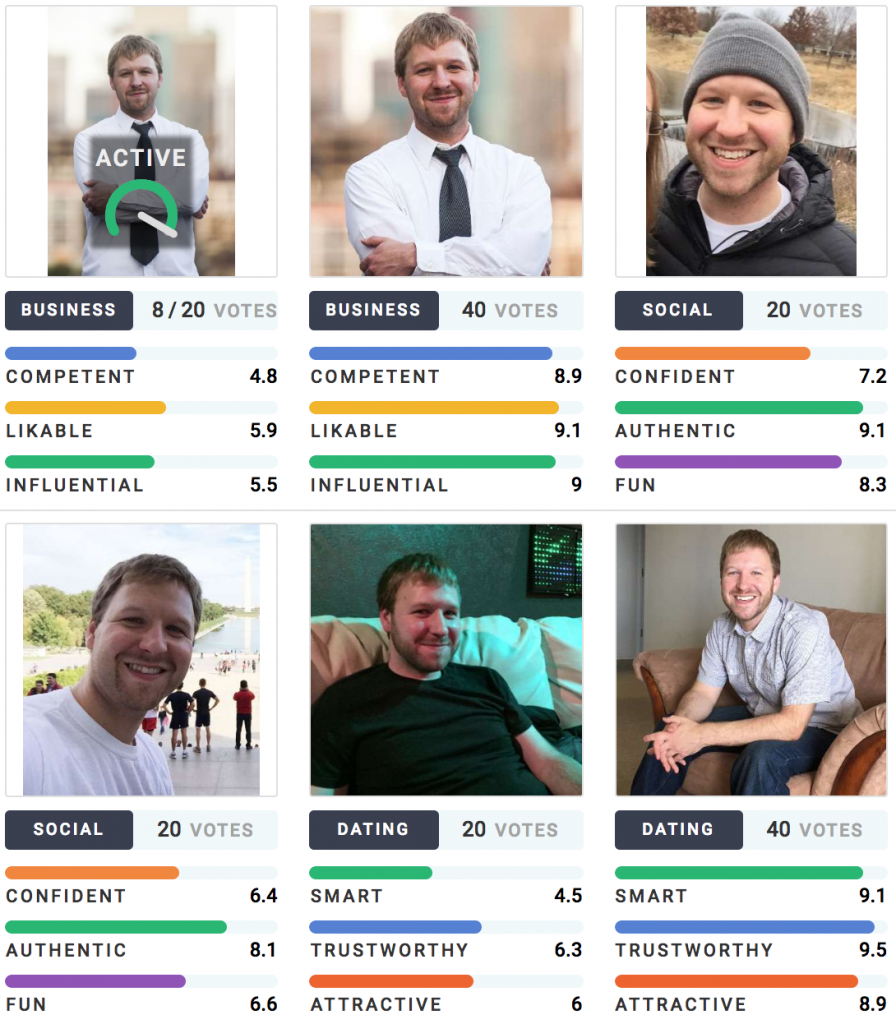 2. Choose a Background Photo That Works With Your Headshot
Once you upload a professional headshot on LinkedIn, choose a background that complements it. Create a professional-looking banner image for your page header. Or, if you don't have the creative chops, reach out to me via email or on Workplace (for free), or hire a designer to develop one for you. Regardless of how you get one, the important thing is getting one. Look below at CENTURY 21 Arizona Foothill's header image:
3. Use Your Headline to Show off Your Real Estate Mojo
After your headshot, your headline is the second-most important element of your LinkedIn profile. Your headline on LinkedIn is a short, 100-character description of your current role. Generally speaking, your headline should be your job title, but you can and should get creative with it to attract more leads.
For example, if you work in North Scottsdale selling Mountain view homes and love hiking, make a headline like "North Scottsdale Area Realtor Since 2006 | Hiker since 1986." Alternatively, mention accomplishments ("Voted the Best Scottsdale Realtor by Arizona Foothills Magazine") or highlight your focus area ("Scottsdale Mountain View Home Expert at CENTURY 21 Arizona Foothills").
Not only does your headline work for you by showing off your skills, but you can also change it anytime to reflect your real estate business better. Just be sure to keep National Association of REALTORS (NAR) and state licensing disclosure regulations in mind when writing your headline or adding your job title to LinkedIn. If you're not sure what your official title is, ask your managing broker or reach out to your Realtor association for advice.
4. Write a Compelling Summary & Choose a URL
After you add a professional headshot, background and headline to your profile, write a compelling summary and choose a URL. For your profile summary, draft a concise description of your approach to real estate, details about your brokerage or other relevant details. Your goal is to get leads to call or connect with you, so highlighting career achievements briefly can also help.
LinkedIn also allows you to create a custom URL for your profile page, which makes your profile easier to find and easier for leads to remember. Using your name or your real estate company name is an obvious choice. However, you can always get creative if your name or company name is very common. Below is a good examples of a LinkedIn real estate profile-.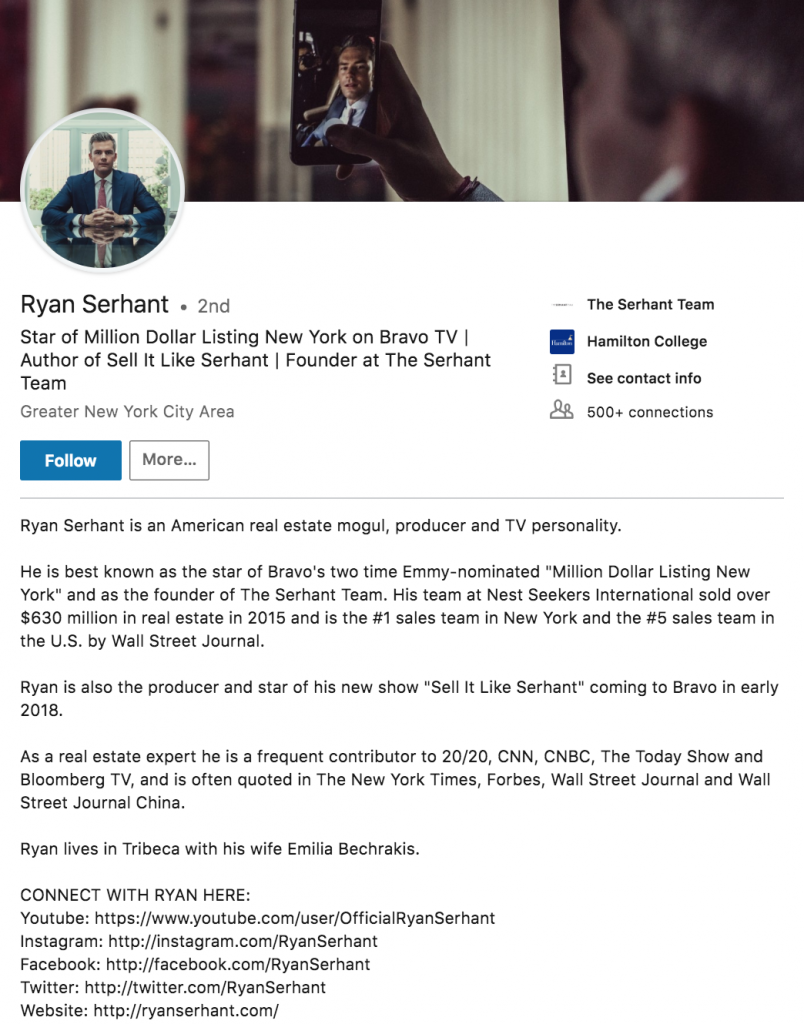 5. Fill Out Your Work Experience, Skills, Education & Accomplishments
When leads are truly vetting you, they dig deep into your profile and review your work experience, skills, education and accomplishments. To provide a complete picture of your professional background and skills, complete those sections of your LinkedIn profile in detail. Try to focus on how you helped your clients rather than a rote resume-like description of your job duties.
While being creative with your job descriptions and summary can be a huge help on LinkedIn, remember to keep NAR and local regulations on advertising in mind. For example, in New York state, the only official job title agents can use is "Licensed Real Estate Salesperson." There are also restrictions on team and brokerage names.
6. Reach Out for Recommendations & Skill Endorsements
LinkedIn provides a recommendations section that allows former clients or colleagues to write up testimonials about your services. To strengthen your profile, reach out to colleagues and former clients after connecting to see if you can get recommendations from them. Recommendations like these show potential clients that they can trust you and make prospects more likely to reach out for your services.
LinkedIn also lets your connections "endorse" the skills you have on your profile or suggest other skills. Endorsements are most valuable when they're relevant to your area of specialty and come from someone who excels in the same field. To build your LinkedIn endorsements page, consider leaving positive feedback for your colleagues, past clients and other connections to encourage reciprocal endorsements.
7. Create Eye-catching & Informative Content
Another great way to build your network and convert connections to clients is to produce and publish useful real estate content on LinkedIn. You can write about market advice, notable recent closings, neighborhood news or anything else that you think will educate or entertain your potential leads. You can even post videos and infographics to your LinkedIn page. If you can't find any content to post or don't have time to create your own content, repost and share any CENTURY 21 Arizona Foothill's content that gets posted on any of our social media channels. Not only is LinkedIn content a great way to engage current and potential clients, but you can also use the same content to boost the search engine optimization (SEO) value of your personal website or blog. What's more, you can use the content to link to your website and social media pages to expand your reach online.
8. Create a Home Valuation Landing Page
One of the best ways to add credibility to your LinkedIn profile and capture leads directly from LinkedIn is with a home evaluation landing page. After you create your LinkedIn real estate profile, input our home value landing page (https://buff.ly/2UXkevQ ) that solicits lead contact information before providing access to home valuation data.
The Bottom Line
LinkedIn can be an amazing lead source for real estate agents. If you want to get more leads on LinkedIn, take the time to create a detailed and professional profile and reach out to as many people as possible to build out your network. Once you have a large network, publish informative or entertaining articles and videos to turn your connections into clients.