Halloween porch decorating is as popular as ever. It is easy to do with so many outdoor Halloween decorations available. Better yet, some of the best decorations can be handmade and used year after year.
Whether you want spooky Halloween decorations or a more subtle look, use our pictures below to get ideas for your own front porch and yard.


Tie cornstalks to porch step rails or porch columns and decorate with wispy purple ribbons and cute owls.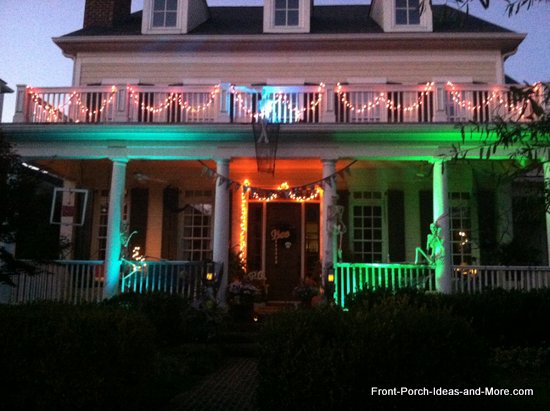 Shine multi-colored spotlights on skeletons and other ghouls on your porch or in your yard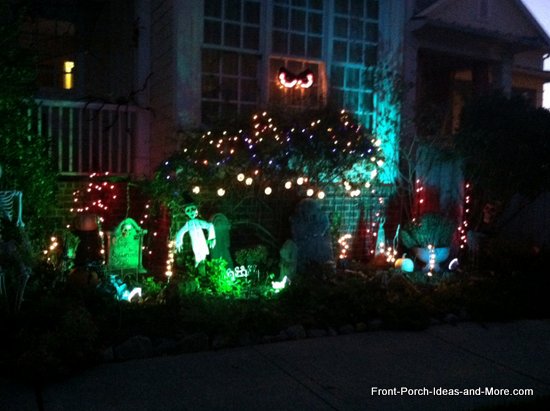 Fill the landscaping around your front porch with goblins, headstones, and twinkly lights
Pumpkins always work for Halloween.
Whether you are a master carver or just want the appeal of pumpkins on your porch, use them to line your steps, greet your visitors, or arrange them in unique ways.
Perfect Halloween porch decorating is best centered around one basic theme.
You are only limited by your imagination, but themes like graveyards, haunted houses, spider or bat infestations, or using only fall colors work well. If you are going for a graveyard look, add fog and spooky sounds.
Lighting for Shadows and Special Effects
Lighting can make all the difference. You can use existing lighting to cast shadows in just the right places or opt for special lighting that can cast figures or designs onto your home.
Innovative Halloween porch decorating ideas: Use strategically placed string lighting, whether in white or orange, to create special effects.
Objects or characters can be subtly highlighted while leaving other parts of your porch much darker. Why not use your Christmas holiday lighting to save you money!
Use either white lights or change them out to orange or purple.
Save a Little Money
Who doesn't like to save money? To cut costs, ask your local pumpkin supplier if they have damaged or distorted pumpkins that otherwise won't sell.
Mixed together, no one will notice and you might get them rather inexpensively.
Another idea is to purchase craft pumpkins you can reuse every year. Purchase them right after Halloween to save even more.
Keep the Trick or Treaters Safe
No need for anyone to get hurt by your Halloween porch decorating.
Make sure your walkways and steps are clear of obstructions that may cause a tripping hazard.
Although you may want specific areas of your front porch to be dark, make sure the traffic pattern is well lit to keep the little goblins safe.
Source:front-porch-ideas-and-more.com